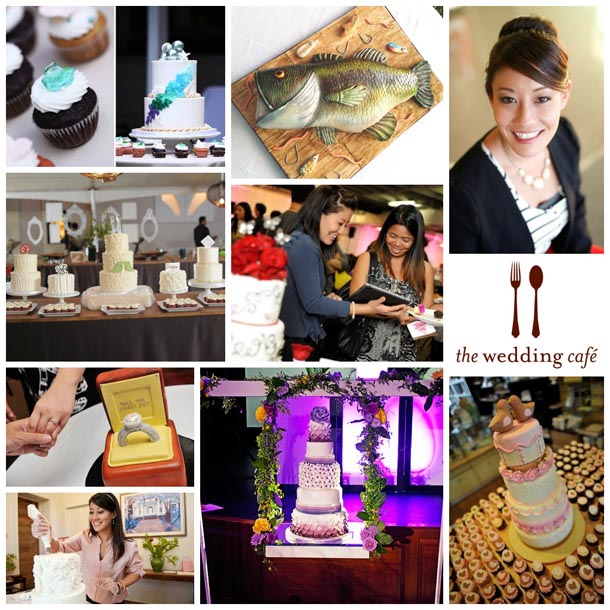 Recently The Wedding Cafe ran a feature on…me!  We love working with TWC and all the amazing brides and vendors there.  There's nothing we enjoy more than meeting with clients, and working with them to turn their vision into reality for their big day.  We thought we'd share this Vendor to Vendor Q&A here, so you too can get to know your favorite cake designer a little better. There is also a PDF version, viewable HERE.
—-
Our goal at The Wedding Cafe has always been to create a resource center not only for brides, but for vendors. Our vision was to open a space for vendors to gather, network, build friendships and of course, cross promote one another. That's the heart of what we do!
Every week, we'll profile a different TWC vendor so you can hear their story, get to know them and soak in their business savvy.
This week, please meet cake expert Kristin Kato. This fashion-forward, law-student-turned-baker, mah jong player has taken Hawaii by storm with her intricate details and amazing fondant designs. She has been a member of TWC since 2011, graduated from the University of Oregon (Go Ducks!) and is dedicated to giving back to Shriners and Kapiolani Hospital.
1. What's your background? How did you get into creating cakes?
My first part time job (when I was 15) was working at Bakery Manoa. I mostly handled the counter sales, but would occasionally assist the bakers with putting the final touches on desserts and baked goods. It really sparked my interest in baking. But it was always my plan to go to law school, so after graduating from the University of Oregon, I came home to Hawaii with the intent of attending the University of Hawaii Law School. Before applying to law school, I took a job as a paralegal and soon realized that law really was not for me, and this was the same time shows like Ace of Cakes were so popular on TV. I was AMAZED at their creativity and artistry. I signed up for a basic cake decorating class at Ben Franklin, and then took more classes at Cake Creations Dessert Haven. After that, I continued to learn all I could about design, sugar artistry and starting a business. I started A Cake Life in July 2009. It has been a truly exciting and rewarding journey!
2. What's one thing you wish you knew when you first started in the wedding industry?
I wish I realized sooner that I couldn't do everything myself as a small business owner. It took time for me to learn to balance, delegate responsibilities and ask for help when needed.
3. I'm sure you're inspired by many people… if you could pick one person ALIVE and one person who's PASSED, who inspires you the most and why?    
I am inspired and motivated every day by my Dad. He passed away from cancer when I was 14-years-old. My Dad and I were very close – we went to UH football games together, we played basketball after school, LOL – maybe he hoped I was going to be a boy? When he was alive he always told me I had to be strong and work hard. Since I am the oldest, I had to look out for my Mom and sister. When I don't know what to do or need help, I try to think about what he would've done.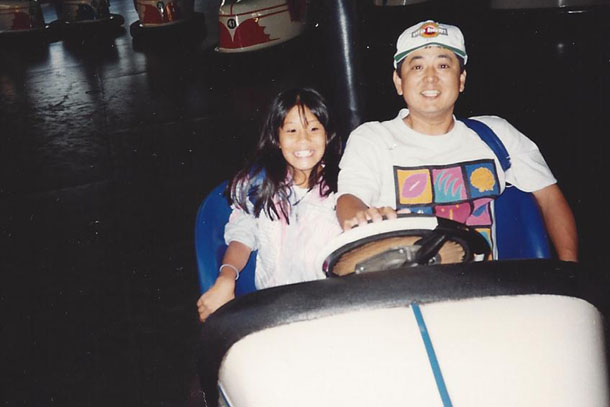 Another person I am inspired by is Michelle Phan! She created her success by doing makeup, fashion and DIY tutorials on her YouTube channel. She built her fame by doing what she loved and became the most subscribed woman on YouTube! Her spunky, positive attitude is inspiring. I admire her encouragement to do what you love… don't stop trying.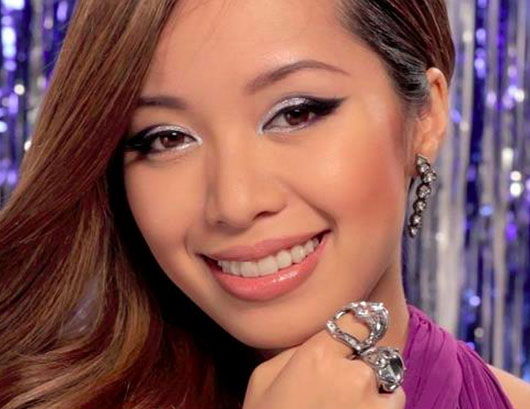 4. What is the best business advice you've ever received? Who was it from? And have you ever had to put this advice to practice?
The NIKE slogan- "Just Do It". When attending the University of Oregon, I learned that Phil Knight, the creator of Nike, and fellow alum said to just go for it. This was the best advice for myself as an entrepreneur to move this business forward. Lots of people along the way have asked me how I could drop a law career to make cakes? But I didn't have any hesitation getting started. I knew I had a passion for 3 things: 1) creating a beautiful cake design 2) working with clients and  3) FOOD! I believe the 'cannot', 'will not' and 'nevers' set your limits.
5. What is your personal secret to success? How do YOU define success?
I define success as being happy every day. To meet with a new client, hear about their wedding and then turning their cake vision into reality makes me feel successful. I set realistic goals for myself, and this business. As time progresses and we achieve the next goal my perspective of what I define as success continues to change.
6. Name three ways you release stress… 
1. I am trying to learn to golf! LOL – trying is the key word! I am terrible but I don't care. It is fun for me so I keep playing!
2. I make time to spend by myself. I go to a park, a coffee shop or the mall to sit quietly, drink my coffee and review what I have upcoming and reflect on the different things that have happened.
3. I like to watch fashion or comedy clips on YouTube on my iPad. And I try to catch a few episodes of my fav tv shows- Modern Family, New Normal, Big Bang Theory.
7. How do you keep up with all the current trends, styles, etc? Any books, websites, magazines, conferences you recommend?
I follow LOTS of wedding blogs – Green Wedding Shoes, Style Me Pretty and Ruffled. And some of my favorite cake blogs are Bakerella, Half Baked and Cake Central. I attend either the ICES Cake Convention or Cake Camp every other year to take classes from other cake professionals, check out new products and see new styles. I believe that staying on top of your industry requires continued education. You can never stop learning or you will stop growing.
8. What is one tip you have for connecting with brides and driving in business?
Be approachable, personable and professional with every person you meet. Customers are your business's fans, there's an opportunity to gain a new fan or even make a new friend with each new person you meet. Brides and clients want to know they are a special fan. But in order to gain the fans, you, your business needs to stay approachable. Always wear a smile. =)
9. What has been the biggest challenge so far for you in business. How did you overcome it?
The biggest challenge in business has been managing our expansion – we are growing and need to plan accordingly.
10. Name three things that can help any business succeed.
1. Be passionate about your company. If you enjoy what you do those around you- other vendors, and especially clients, will see your enthusiasm and will naturally be comfortable working with you. Stay positive to motivate those around you. You control the direction you want to take your business.
2. Build a good foundation and stay grounded. Always remember where you came from, but keep your eye on where you are going.
3. Show your gratitude. After a crazy week, I like to take time to reflect on the challenges and opportunities that have been provided. Although this job is rewarding it is definitely not easy. But no matter if something was difficult or easy, I am thankful for the experience. Being grateful to your clients, vendors or colleagues will help build your business. We always thank our clients from the beginning initial inquiry to our final follow up after they've received their cake. Saying 'thank you' will take you a long way.
11. How important do you think social medial is when connecting/promoting your business? What social media channels do you use?
We are VERY big on social media, we use it all – Facebook, Twitter, Instagram, Yelp, LinkedIn. Social media outlets are great to connect with clients, or anyone around the world! We have people from England, Israel, Malaysia and beyond commenting or "liking" our photos on Facebook and Instagram. Many of our past brides are excited to see us post their cake on our page, and leave great comments that other people can read. It's an efficient way to have our cakes viewed by a wide audience. But social media requires constant attention to remain effective – people ask questions or comment and they want an immediate response.
12. What is one thing you want all wedding vendors to know about you and A Cake Life that they may not already know?
One thing? Here's a few fun facts about me… My nickname is Gummi! I got the nickname in college =) My fav movie is Love Actually, the most interesting place I've traveled to is the Dominican Republic and I like to play Mah Jong.