Kristin Kato
Our Team
Our Shop
Our Blog
Download Our Brochure
Join Our Team!
---
Kristin Kato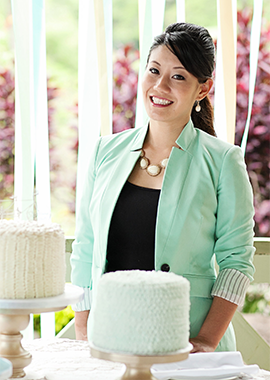 Owner and cake artist, Kristin Kato, opened her award-winning cake shop, A Cake Life, in July 2009 with the belief that "THERE'S NO LIFE LIKE A CAKE LIFE!" The company specializes in creating customized cakes for any occasion, including weddings, birthdays, bridal or baby showers, corporate events and special parties.
All cakes are custom ordered, and customers can select from traditional wedding or birthday tiered cakes, cupcakes, cupcake wedding cakes and sculpted cakes. Each cake is quoted individually based on size and intricacy of design.
Some of the most popular flavors include Yellow Butter Cake with Fresh Strawberry Cream filling and Red Velvet with Cream Cheese frosting.
While creating individual handmade sugar accents can take hours of detail work, the feeling of reward when someone is thrilled to see their cake on their special day is the most gratifying experience of all. So let A Cake Life add some sweetness to your day!
Connect with Kristin on LinkedIn.
---
Meet the Sweet Team
We are honored to meet you! Our team is dedicated to creating customized cakes for all your special occasions. And we each have a sweet tooth! Below is the team behind A Cake Life and our favorite cake flavors too!
---
Our Shop
We are across the Stadium Park on the left side of King Street in the same complex as L&L, Kozo Sushi, Sweet Home Cafe and Pizza Hut. We are right next door to Pizza Hut.