Halloween Specials!!
For a limited time only, we're offering up ghoulishly delicious Halloween cakes for you to enjoy!  Orders must be received at least 48 hours in advance.  Please call 542-0131 to order today!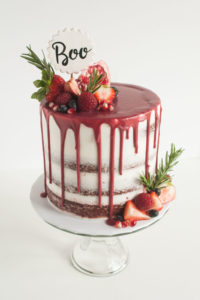 Bloody Mary – $60
This decadent four layered six inch red velvet cake with cream cheese filling is topped with the perfect blood red chocolate drip and adorned with scary pomegranate seeds (they look like teeth to me! Lol!), assorted fresh berries and rosemary sprigs.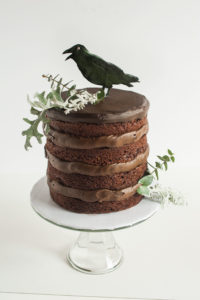 The Raven – $55
The Raven is a six inch devil's chocolate cake paired with our light chocolate cream filling and topped generously with rich chocolate buttercream frosting and decorated with a hand-cut sugar black raven cake topper and fresh sprigs tipped in real edible silver leaf.
The Golden Spider is a six inch yellow buttercream cake with our signature lilikoi cream filling and white textured buttercream frosting sprinkled with gold sugar at the base and topped with a hand-cut spider artistically painted in gold and topped with real edible gold glitter.