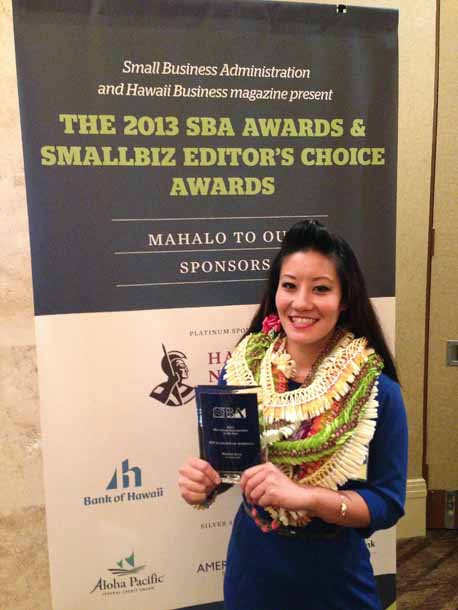 Back in February I was honored to receive the Small Business Award "Young Entrepreneur of the Year" Award for the City and County of Honolulu, at the 26th Annual 2013 SBA Awards Luncheon recognizing top businesses, lenders, entrepreneurs and advocates in Hawaii's largest small business awards program.
It was an AMAZING honor and I am SUPER grateful for this recognition.  I am also grateful to all our wonderful clients for trusting in us with their cake orders, the tremendous support from my boyfriend Grant, his family, my sister, my team and all the other great vendors I get to work with.  At the end of the day, I am grateful to have a job that I absolutely LOVE and am EXCITED about every single day.
The award luncheon took place at the Hilton Hawaiian Village and culminated several months of work on the application process.  For the past few years we've been working on gaining financial backing for a growth project, and it's been a very eye-opening process with many set backs at times.  Just as we began to move forth with Bank of Hawaii, my business banker shared that he wanted to nominate me and my company for this award.  We worked together closely filling out the application form, and finding all the necessary information – it was quite the process!  Finally, after the committee met I got a surprise phone call saying that I had won the "Young Entrepreneur Award" – needless to say, I was speechless!  =)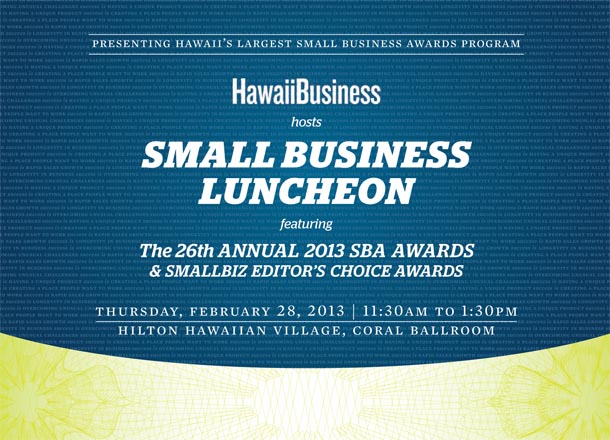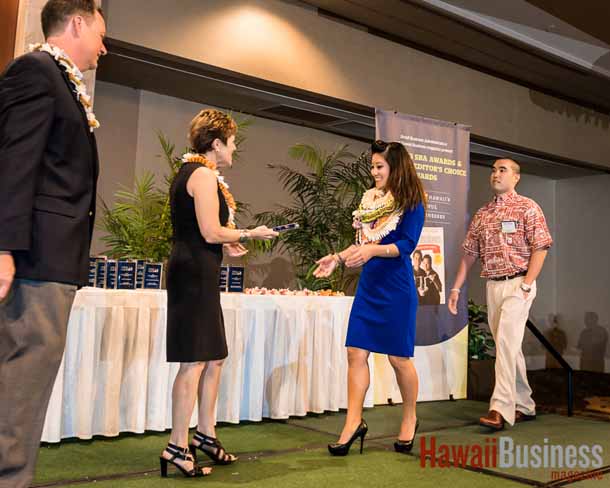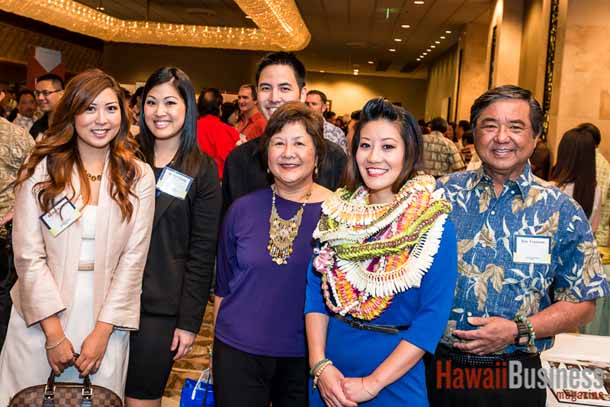 Above photos courtesy of Hawaii Business Magazine
Following the luncheon, I, along with several of the other SBA recipients were invited to Honolulu Hale  to meet with Mayor Kirk Caldwell who presented us with Awards of Merit.
The other award recipients are (From the City & County of Honolulu):
Small Business Person of the Year – Patrick Sullivan, Oceanit Laboratories
Exporter of the Year – Lyon Associates, Jim Lyon (President)
Entrepreneurial Success – Peter B.H. Kim, Yummy Korean BBQ, Lahaina Chicken Co.
Young Entrepreneur – Kristin Kato, A Cake Life
Family-Owned Business – Allen Woo, Manson Products Co.
Minority Small Business Champion – Rich Richardson, Hawaii Academy of Performing Arts
Financial Services Champion – Frieda Takaki, Chart Rehabilitation of Hawaii Inc.
Women in Business Chamption – Naomi Hazelton-Giambrone, Element Media Inc.
(For the County of Maui):
Small Business Person of the Year: Brandon Labonte, Ardentmc
Women in Business Champion – Linda Kay Okamoto, Okamoto Realty LLC
Minority Small Business Champion – Thomas Chou, Rainbow Tax and Financial Services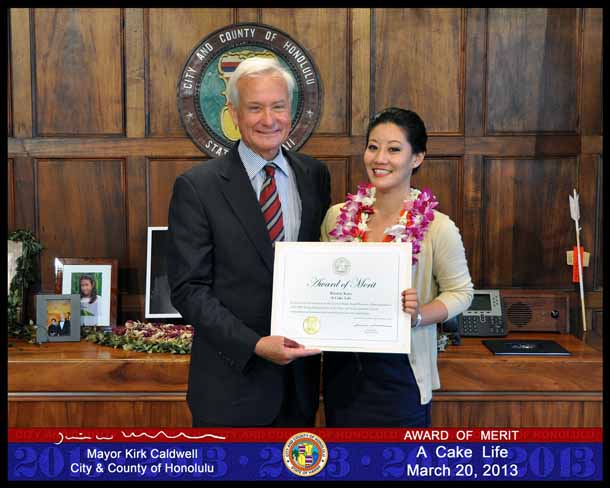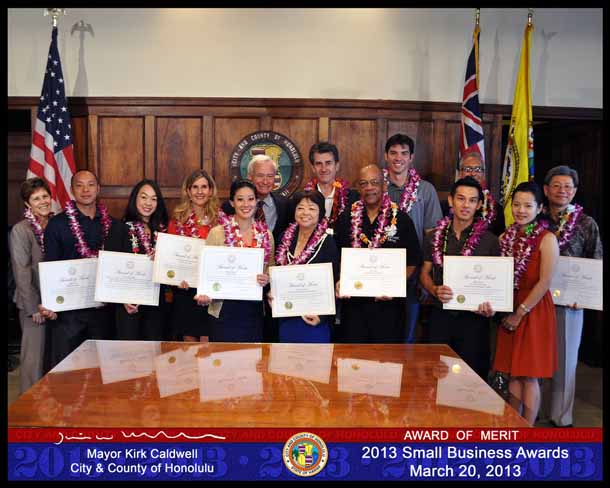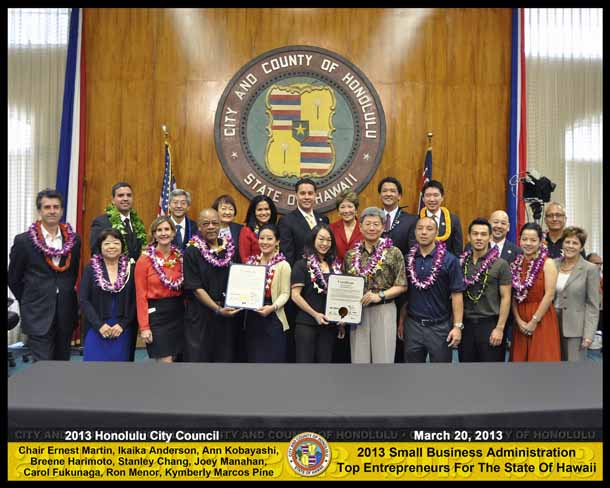 The Young Entrepreneur Award recognizes business owners, under age 30 for their achievements. The evaluation/selection criteria for the SBA Small Business Person of the Year Award includes the following:
Staying power
Growth in number of employees
Increase in sales and/or unit volume
Current and past financial performance
Innovativeness of product or service offered
Response to adversity
Contributions to community-oriented projects
If applicable, a description of the products exported and markets served
Here is an excerpt from an article published by Pacific Business News about our company and the SBA Award:
So far, the biggest obstacle for A Cake Life has been finding a balance between growth and expansion.  As a small-business owner, in the beginning, I handled everything myself so it's taken time for me to learn balance, delegate responsibilities and ask for help when needed.  Now that I have a great team behind me (which is what we focused on in 2012), we're ready for the next step in our expansion.  Finding financial backing was a huge challenge, and an intense learning experience.  That's where I've found the importance of setting goals and growth, and constantly evaluating where we are in our business plan – we've faced lots of rejection, but I think it's made us stronger.  We are so grateful for Bank of Hawaii's faith in our business – they were actually the ones who nominated us for the Small Business Award!
For more on the awards, please refer to these articles:
Hawaii Business News – Hawaii's Best Small Businesses 2013
Pacific Business News – Yogi Kwong Engineers owners named SBA's Small Business Persons of the Year for Hawaii
While there is no monetary award, it is a very prestigious honor.  Many thanks go to Bank of Hawaii, who nominated us for this award and worked closely with us throughout the whole process.  We're sooo excited to be partnering with Bank of Hawaii on our next venture.  To be continued…soon!