Photos courtesy of Kristin Kato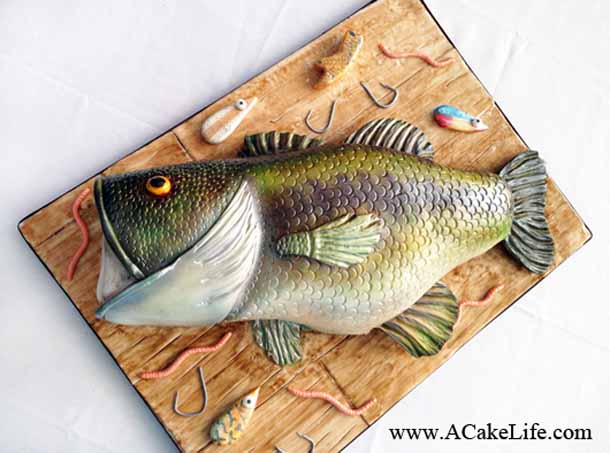 Linda and Frank were married at Kualoa Ranch, and in addition to their traditional wedding cake, Linda requested a special surprise groom's cake for her fiancée.  She shared with us that Frank is really into bass fishing and wanted us to make a bass fish cake for him.  She emphasized over and over again "to make it as realistic as possible" so we created an entirely edible fish cake – even down to the fondant cutting board, worms and hooks, etc.  The cake was shaped out of red velvet cake and cream cheese frosting.  We spent about 10 hours on the cake, making sure each detail was just right – the textured scales, the gradient colors, even the silvery highlights on the fish.  As we were setting the cake up, people were just blown away by it.  Linda shared with us that her mother couldn't believe it was a CAKE, so she kept poking at it!!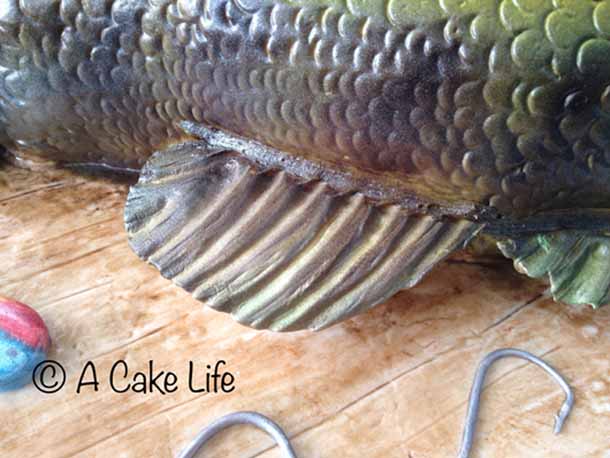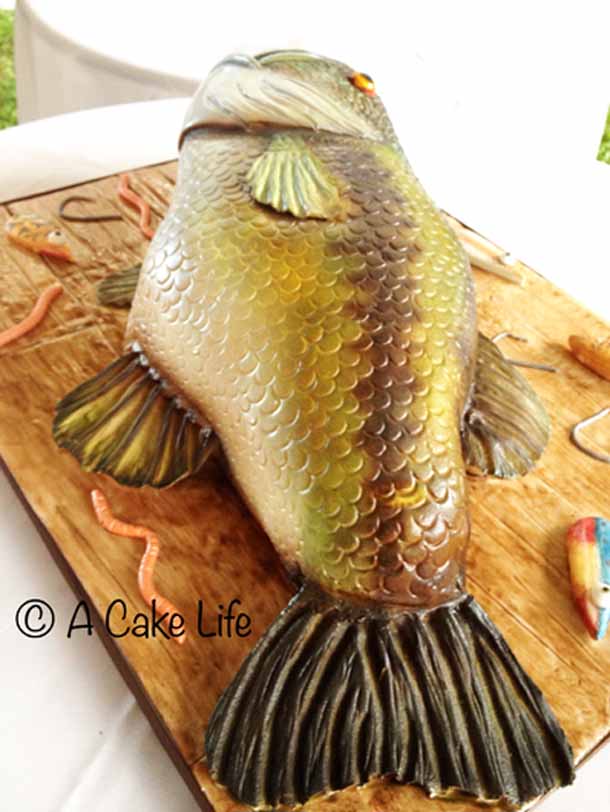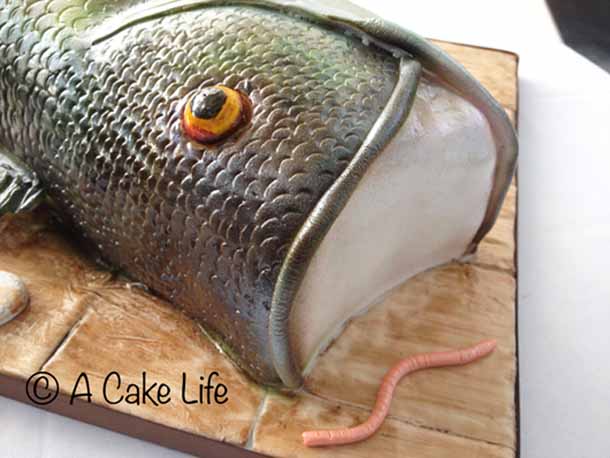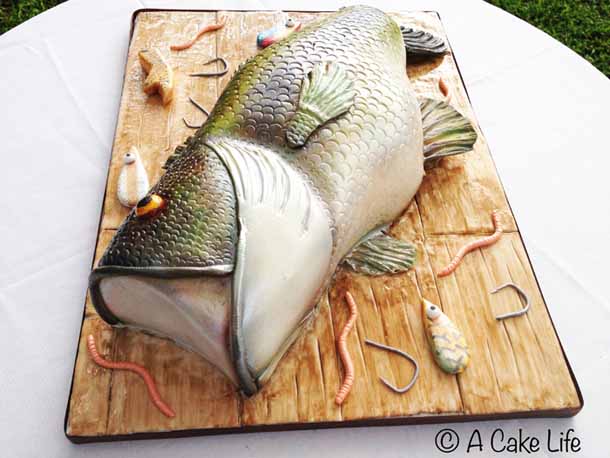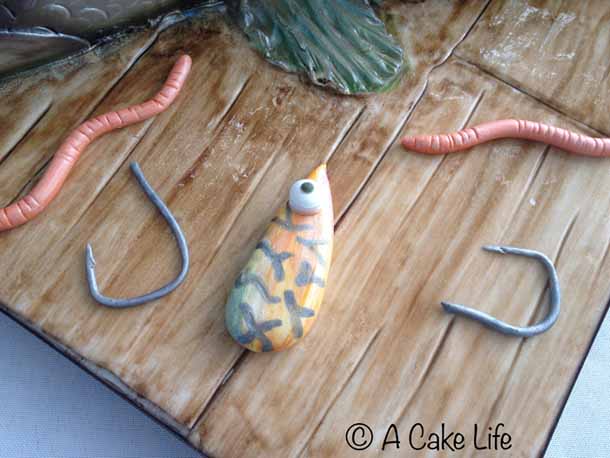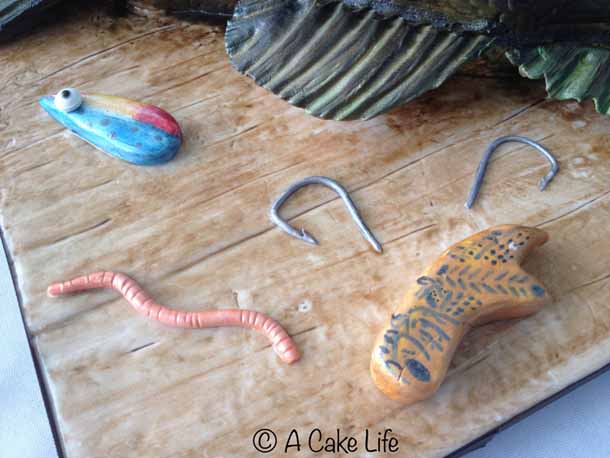 Photos courtesy of Chef Elmer of Poke Stop after Linda and Frank cut their cake!  Frank requested the head of the fish to be set aside just for him!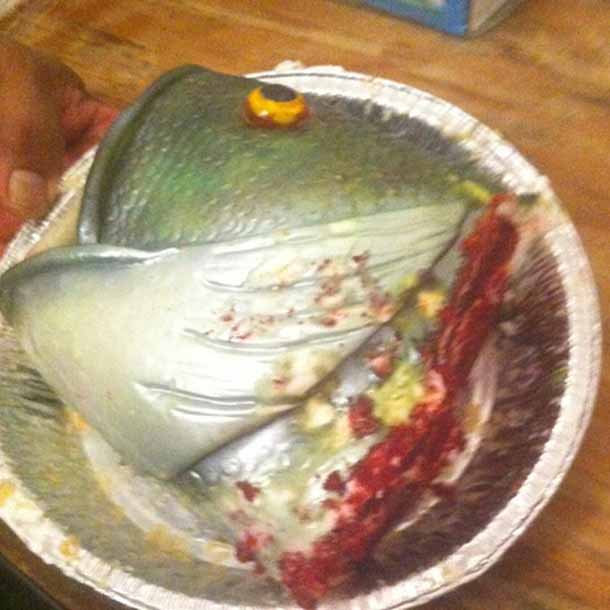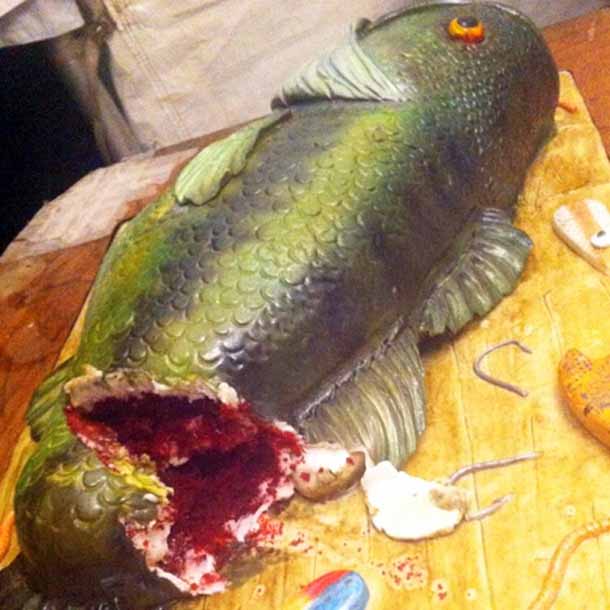 Here's what Frank had to say about his cake…
"I have never been more shocked/happy/speechless in my life.  It was unreal that Linda was able to pull this off without me having any suspicion, but on top of that…you and your team did an AMAZING job.  My friends and I all grew up bass fishing here in California and we were even thinking about trying to sneak in a little Peacock Bass Fishing over at Lake Wilson while we were out for the wedding.
As a side note…at the end of the night, the entire cake was cut up…My dad was going to take the fish head home for his sisters family who didn't get any wedding/bass cake.  Linda saw it and for one reason or another, she took a big ole bite out of the face of the BASS.  It was one of the highlights of the night!
 Of course, my friends at the wedding loved it, but since we've posted it on FB and Instagram, tons of people have asked us about it.  "Dude, that fish looks real", or "how the heck did she do that?"
 Thanks again, I don't know what else to say other than…you guys are awesome!"
—
We had a great time designing this cake – thanks Linda and Frank for the opportunity to create this amazing cake for you!